Clearly arranged in one folder
OVERVIEW OF OUR PRODUCT RANGE IN ONE FOLDER
A large part of our product range consists of screws from FP: our own brand's screws that are used for sandwich panels, corrugated sheets, single skin sheets, wood and concrete. The FP professional screws are developed, produced and supplied by ourselves in any desired material.
f desired, we can provide the screws with a coating, which we do at our own location. This allows us to provide you with right screw very quickly. We offer a solution for every application! All our screws have been tested and certified in accordance with the applicable building guidelines.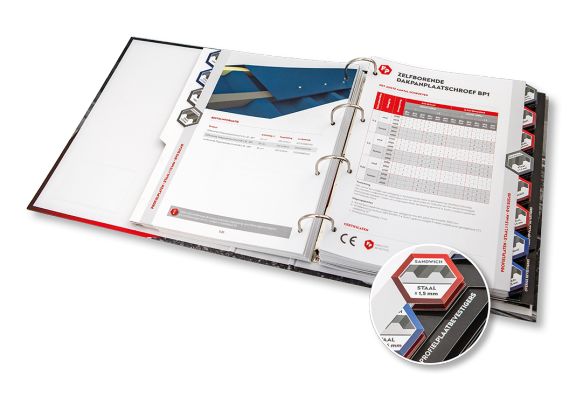 QUICK AND EASY
This documentation folder is divided into various chapters, focused around the application, such as panel screws, corrugated sheet screws, metal sheet screws, stitching screws and other screws. The application can also be found using the icons. These icons are also shown next to each fastener, so you can quickly see what type of fastener is being displayed. Select the right icon based on the desired material, the application and the substructure, and the appropriate fastener will show up.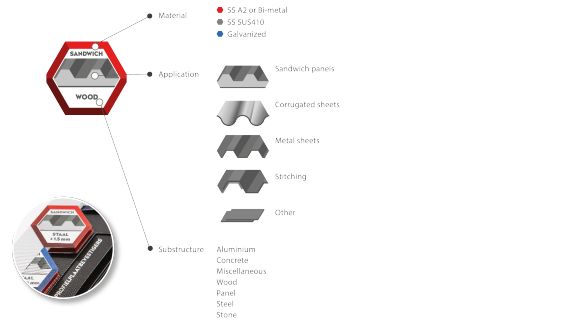 COMPLETE INFORMATION FOR EVERY PRODUCT
All information about the relevant fastener is given in detail using the following subheading:
Application
Specification
Options
Section
Certificates
Order information
The correct number of screws
Mechanical properties
Technical properties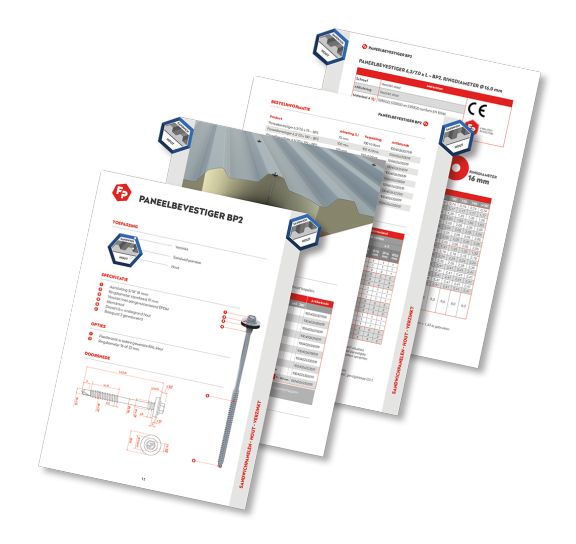 MECHANICAL PROPERTIES OF ALL FASTENERS
Various products in our documentation contain tables with mechanical properties of this product. These properties have been determined based on extensive testing and its evaluation.
For a large part of our product range, the mechanical properties have been tested by an independent institute and recorded by the DIBt in an ETA (European Technical Approval). For the other products, these properties have been tested in our test laboratory and have been evaluated and recorded by an independent agency. The tables accompanying the products in our documentation have been set up in accordance with the layout in the ETA.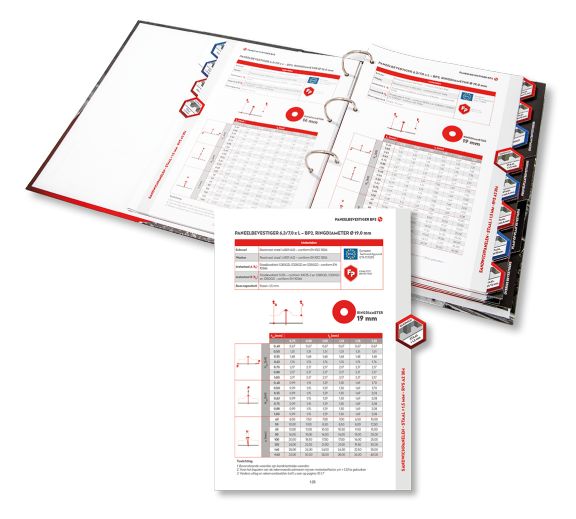 DO YOU WANT TO STAY UP-TO-DATE ABOUT THE DOCUMENTATION FOLDER?
Send your contact details to info@schroevenbestellen.nl or fill in your contact details below. We ensure that your data is processed in our database and that the documentation folder is always up to date! Make sure you have checked the button for the update service!
If you have any questions, don't hesitate to ask! Contact our sales department on 0318 46 1650 or send an email to info@fastenerpoint.nl.